Today Rocco Siffredi got to play the dirty delivery man and got to play around with a couple of office ladies. Two very horny and sexy blondes that you'd kill to get to fuck. One of the blondes is the boss of the firm and the other little slut is the secretary. And so far it seems they made a habit of teaming up to fuck any guy they find interesting that walks through the front door. As this time Rocco was the one to do that he'd be their pray for the day. But they'll soon learn not to mess with him as he's capable of always turning things around and fuckafan.
So as they pull him in the office they take off his uniform and just throw him on the chair while they both kneel down to start off this session with a nice and juicy double blow job. Oh you can bet they did one awesome job, didn't we just tell you that they always had practice? Well when the cock is all hard and lubed they're kind of surprised at the size of it. But none the less they present their asses and pussies for the penetration. Watch as Rocco teaches these two sluts a lesson fucking them hard core for this gallery. Enjoy everyone and we'll see you soon!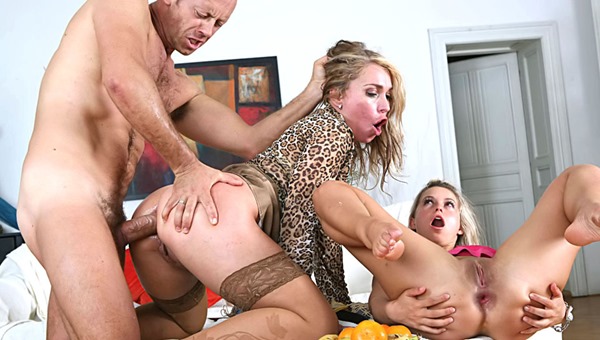 See these two sluts taking turns on Rocco's fat cock!