Another fresh week and time for another Rocco Siffredi update. This fine gallery contains the next part of Rocco's little vacation. And this time he stumbled into another pair of horny ladies. He met them as they were having some lunch on a terrace and just like always, his charm attracted them to him. So during their little lunch together the beautiful babes were getting more and more daring. Soon the two little sluts revealed the fact that they were not wearing anything underneath their dresses, and with that Rocco knew he was going to get some more pussy.
They took to the back yard of the place to continue their little fuck escapade and to be a bit more far from the prying eyes. And let's just say that these two women intended to do a number on him, to fuck him so good he wouldn't be walking straight but the ladies don't know who they're dealing with, since Rocco turned the tables on them today. Watch him go to town on those wet and tight pussies fucking them balls deep and hard. Suffice to say that the women won't forget this day too soon. Like always, enjoy guys and we'll see you next time! In the mood for more hardcore sex? Check out Rocco an his babes, in this video!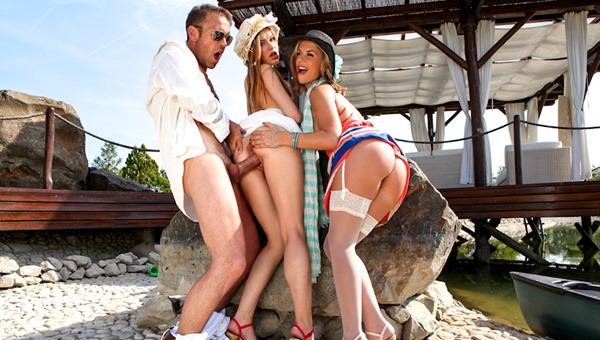 See Rocco properly nailing these two cock hungry sluts!